Astronaut Duane "Digger" Carey
Biography:
Click here for a look at Digger's official NASA biography.
Duane "Digger" Carey was born in St. Paul, Minnesota. His young parents divorced when he was six years old. He spent three years living in public housing ("the projects") with his single mother and two siblings.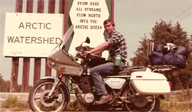 After graduation from high school in 1975, he eschewed any further schooling and hit the open road on his motorcycle. For the next two-plus years he motorcycled, hitchhiked, and hopped freight trains, traveling all over North America. He worked several odd jobs including busboy, dishwasher, typewriter repairman, and bartender.
Galvanized by the beauty of America and the generosity of her people, Digger eventually decided to join the Armed Forces. In the fall of 1977, he commenced classes at the University of Minnesota and joined the Air Force ROTC detachment there. He was awarded a Bachelor of Science Degree in Aerospace Engineering and Mechanics in 1981 and a Master of Science Degree in Aerospace Engineering in 1982.
Air Force Career:
Digger completed Air Force Undergraduate Pilot Training in 1983 and was assigned to fly the A-10A Thunderbolt II at England Air Force Base (AFB), Louisiana. In 1986 he was reassigned to another A-10 squadron, this time at Suwon Air Base, Republic of Korea, where he was the Chief of A-10 Standards and Evaluations and recognized as Company Grade Officer of the Year.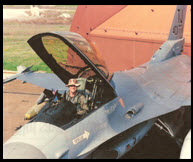 In 1988 he relocated to Torrejon Air Base in Spain to fly the F-16C Fighting Falcon. He deployed to Incirlik Air Base in the Republic of Turkey during Operation Desert Shield and remained there through the completion of Operation Desert Storm. In addition to flying over 30 combat missions in support of Operation Desert Storm, he led a 60-aircraft multi-national strike package on a bombing mission over Baghdad, Iraq. A Flight Commander and Strike Package Commander during the war, after the cessation of hostilities he was promoted to Assistant Deputy of Squadron Operations.
In 1992, Digger reported to Edwards AFB, CA, to attend the Air Force Test Pilot School. After graduation he remained at Edwards, where he served as an F-16 Experimental Test Pilot (specializing in Performance and Flying Qualities flight testing) and as a Systems Safety Officer where he led dozens of comprehensive Safety Review Boards for the Air Force Flight Test Center.
In 22-plus years of service, he logged over 4300 hours of flying time in over 35 different types of aircraft, including over 1000 hours each in the A-10A, F-16, and T-38A Talon.
NASA Career: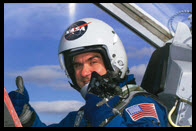 In 1996, Digger was invited by NASA to join the Astronaut Corps as a Space Shuttle Pilot. After completing two years of rigorous training as an Astronaut Candidate, he spent the next two years supporting America's Manned Spaceflight Program as the Astronaut Office's Lead on numerous Space Shuttle safety and performance upgrade teams.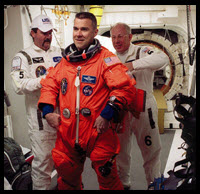 In 2001 Digger was assigned to pilot a servicing mission to the Hubble Space Telescope on Space Shuttle Mission STS-109. STS-109 was an unqualified success. Digger and his crew spent almost 11 days in Space aboard the Space Shuttle Columbia. During STS-109, Digger and his crew completed 165 orbits of the earth and traveled over 3.9 million miles. It was to be Columbia's last complete mission.
Digger was then assigned to Houston Mission Control as a Capsule Communicator, or CAPCOM. He was on duty in Houston Mission Control during Columbia's next mission when she broke apart upon reentry and her crew of seven was lost. During the months after the accident, Digger led an Astronaut team of investigators at the NASA contractor facility where the Columbia's External Tank was manufactured. He later represented the Astronaut Corps while serving as the sole Astronaut Office representative on the Source Selection Board charged with awarding the contract to build the follow-on spaceship intended to replace the Space Shuttle.
In 2004, Digger left NASA and retired from the United States Air Force as a Lieutenant Colonel.
Recent Activities:
Digger and Cheryl, his high-school sweetheart, moved to Colorado Springs, CO, in 2004. In 2005, they started One-Eighty Out, Inc., to educate young people and other Americans about the importance of America's exploration and research programs. He also employs his uplifting personal story to entertain and motivate corporate and professional audiences.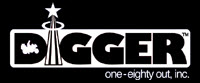 Our current project is still in the works, but here's a preview: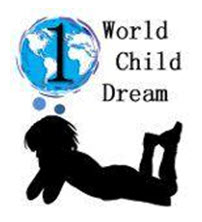 "One World, One Child, One Dream"
"The mission is to reach children in every sovereign nation on Earth - and to get there by motorcycle. The 'Dream' part has a few special meanings to me. I dream of being the one who ignites the spark in the one child in this world who has the potential of leading humanity to the stars. Of course, this special child will also have to be a bit of a 'dreamer'. The 'World' part? Well, I've been around it over 160 times already and would like at least one more circuit....the slow way this time, with Cheryl at my side!
"Yep, sounds ridiculous, but dreams frequently are..."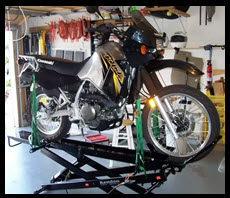 If you would like to follow along with Duane as he prepares the motorcycles for our trip please check out this thread:
Selected Honors and Recognitions:
Awarded the Fédération Aéronautique Internationale's Korolev Diploma with his Space Shuttle Mission STS-109 crew in 2002 for conducting a "flawless" Space Shuttle mission.
Awarded the Distinguished Flying Cross with Valor Device and three Air Medals for exemplary performance and courage while commanding combat fighter missions during Operation Desert Storm.
Awarded the Hazel Kolb Brighter Image Award in 2002 by the American Motorcyclist Association the highest award the Association presents to those who have improved the image of motorcycling. (Read why Digger won this award.)
Digger and his wife, Cheryl, have appeared in scores of newspaper articles and television spots all over the United States and Europe. They've also been featured in several publications including American Motorcyclist, Sport Rider, Red Rider, and Road Trip magazines.
Digger and Cheryl are blessed with two well-adjusted, happy, productive, and patriotic adult children who are both endeavoring to make America and our world a better place - perhaps the greatest honor of all!
More Questions?
See our FAQ Page or Contact Us



Web hosting provided by WebQuestHosting.net
Site Design ©2017 WebQuest Hosting.
Contact Web Host